Logo Design, Uniform Branding, Stationaries, Marketing Collateral, Packaging & Product Launch Services.
What we do best
Brand Language
Brand Naming
Positioning & Strategy
Brand Voice & Tone
Brand Messaging
Brand Story
Identity Design
Logo Design
Visual Identity Systems
Packaging & Print
Branded Wayfinding
Brand Activation
Website Design
Interface Design (UI/UX)
Content Strategy
Photography & Video
Advertising Campaigns
Brand Language
Create a storyline with us. Establish an Identity that you will be known for. We blend strategy, design & technology to co-create brands that are both brilliant and beautiful.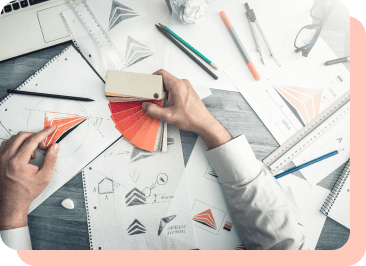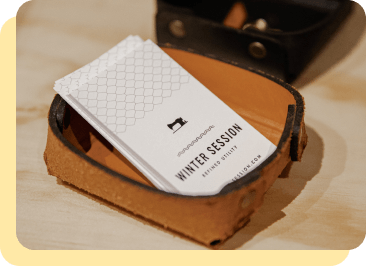 Brand Image
Our approach makes brands distinctive, sets them apart from their competitors and drives sustainable growth. We give brands an Emotional Competitive Advantage and give a unique seamless translation across brand assets.
Brand Positioning & Visual Identity
It is important that branding within marketing communication (Visually) empowers and shapes the commercial success of the brand. A brand needs to personify the story and soul of its existence. The visual language of Brand representations drives recall.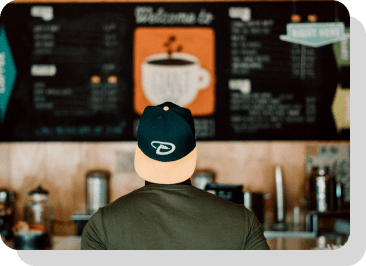 What we do to make great Branding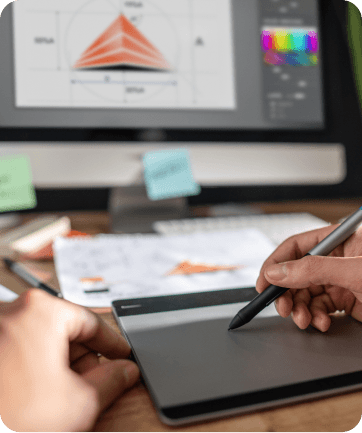 We get a complete understanding of your business, product, goal, and expectations and combine it with our research and your suggestions.
We transform your idea or concept into an outstanding product that reflects your brand and identity.
We pick up a brand style, colours, fonts, and imagery in line with your business idea to communicate your brand personality to the world.
We craft your brand image with a brand logo, symbol, image content, & marketing collaterals.
We design your brand scaling strategy for a consistent brand message.
Why focus on Branding
Improve Your Messaging
We help communicate your brand message clearly and consistently to your audience to give them adequate reasons to bond with your product.
Increase Your Perceived Value
The right branding transforms the way your customers view your product. Find unique ways to enhance the perceived value of your product.
Attract The Right Audience
A well-designed and thoughtfully launched brand can help you connect deeper with your audience and foster better engagement.
Outshine The Competition
Highlighting and showcasing your brand's USPs with a disruptive branding approach helps you stand out in the crowd and lure more customers.
We design unique brand persons which your target audience will appreciate.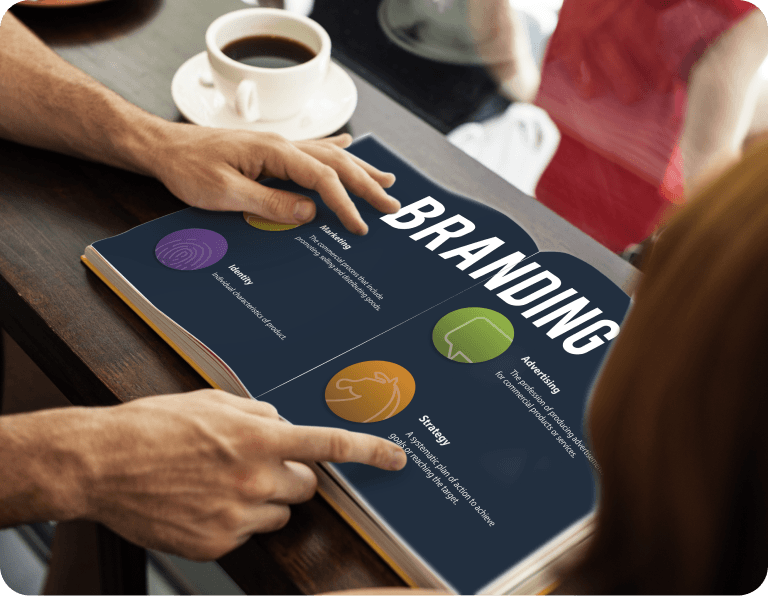 Our teams fully understand complex business and marketing dynamics and carry out thorough research to examine the nature of your business, its products, and goals, as well as study targets and analyse your competitors and existing customer personas.
We convert your ideas into appealing visual representations that propose your brand based on these checkpoints.
We collaborate with our clients to finalise the complete visual design system with a compelling brand identity.
We create visual stories that will speak volumes about your brand.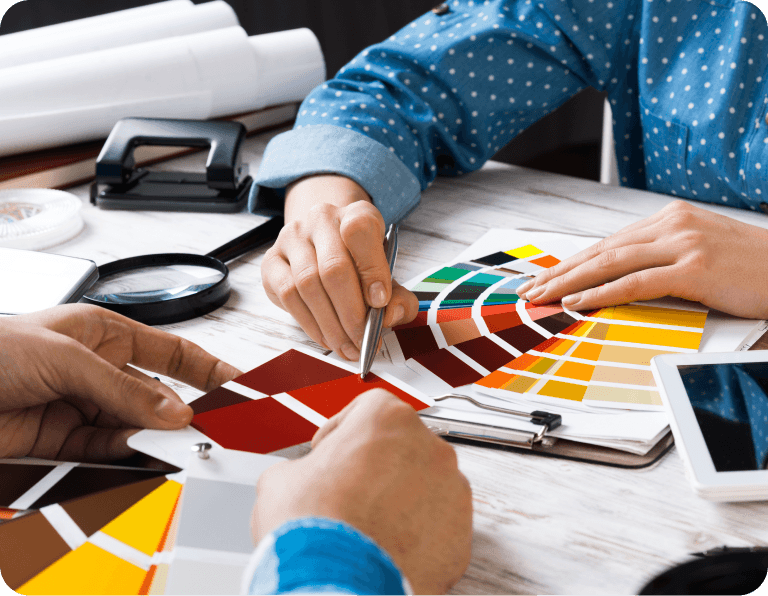 Visual branding is an essential facet of your marketing strategy. We strategically design all the visual elements of your brand, such as colours, fonts, art styles, typography and illustrations, to make it recognisable.
We design stunning visuals where each component works together to create the overall look and feel of your brand.
We design iconic brand logos that best represent your brand and brand essence.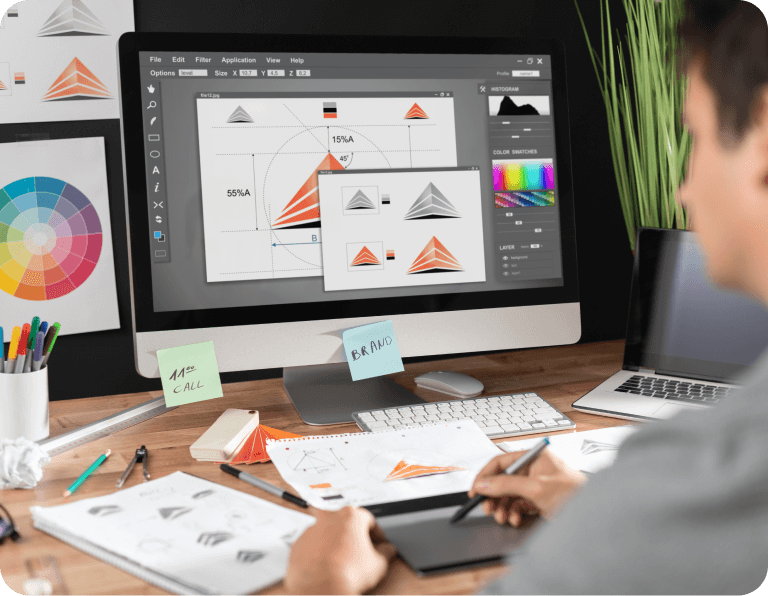 We help create your brand's unique logo after comprehensive research on your business idea, market, and targeted goals and tying these attributes with your brand.
Our designs create the most promising designs to bring your brand vision to life with your choice of colours, fonts, and elements.
We also test them with your target personas to finalise your brand logo to make your product stand out in the market.
Appealing icons that convey your brand message
Visually appealing icons are capable of hooking the viewer's interest while still conveying the brand message.
We use your brand persona as a foundation to create a set of icons that perfectly represent your business message and prompt the user readily to take action.
We design captivating illustrations that capture and portray your brand personality.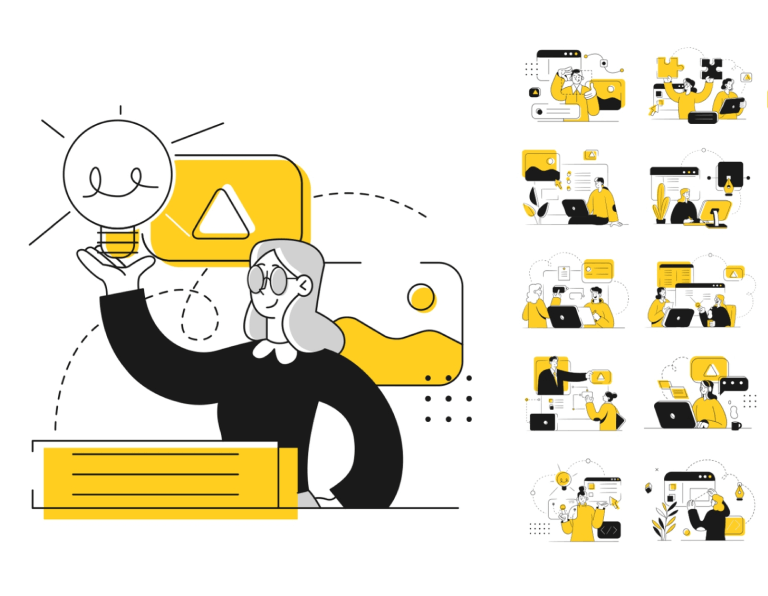 Brand illustrations add character, depth, and feel to your company's brand.
We design powerful illustrations that set a mood, tone, and attitude in a succinct visual to the target audience.
Our designers craft the right brand illustration with the perfect selection of trends & styles for a satisfying user experience.