SEO services in Birmingham
SEO services are a need for every company in this digital marketing era in order to create a strong presence and keep the customers updated and engaged with the latest business insights and their products and services.
We believe in supporting your business with our unique approaches and making sure that your services are exposed and you can attract more audiences.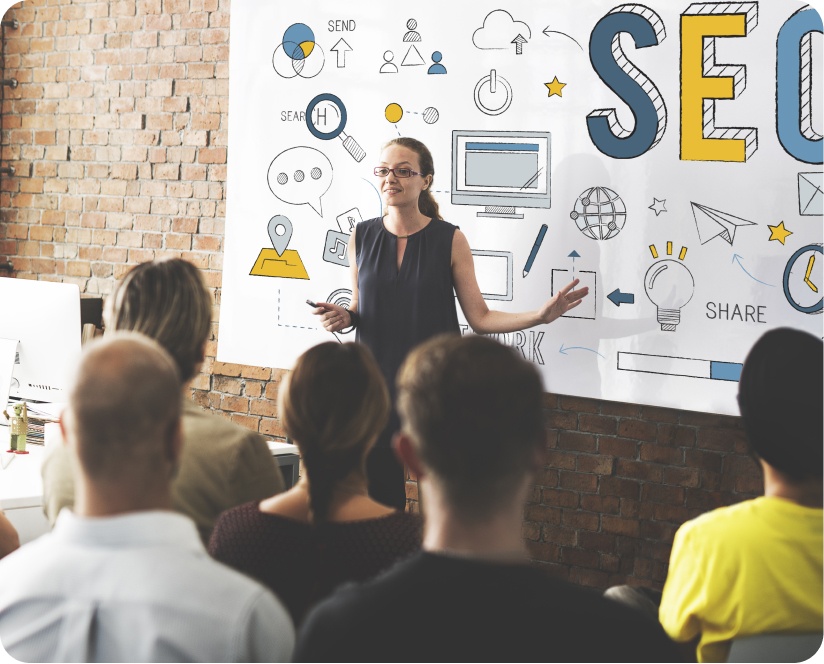 SEO Process by Our No1 SEO Services Company in Birmingham
01
To understand business
To understand the online market you need to work on your strengths and approach to capture potential audiences that drive businesses. Therefore, the right tools need to be used and important factors such as SEO and social media influences on your company can get you to the top a lot faster. The SEO Company Birmingham handles everything from start to end.
02
Role of valuable Keywords
Keywords certainly play a huge role in businesses and their online presence because they help you attract customers and users online. We SEO Manchester use the most relevant keywords that can highlight your products and services and give your audiences a better understanding of your business.
03
Optimization
Optimizing your content is the utmost important thing and that is why one must update their website from time to time keeping the content flow relevant. We have key strategies and methods that will make it a memorable experience for all customers and online visitors. Our experts are very well equipped with knowledge and research about websites and how to run those best.
04
Google business SEO
you can make your business recognizable and expose it to the closest as people are searching on Google. SEO services Birmingham helps you push your products and services and update important information to get more people into the circle. Therefore, whenever the user searches using the keywords your company or brand's website will show up and they can connect with you.
The kinds of SEO services that we offer

Local SEO
Local SEO is a necessity for every business and you want to reach out locally first when you are starting as well. By incorporating Local SEO you will expose your services locally and when people closest to you search using relevant keywords, your company's website and services will show up and Google will start recognizing your business for its rankings. Our SEO services in Birmingham help you implement local SEO and much more.

Global SEO
If you are looking forward to optimizing your content for the worldwide audience, and then you simply require Global SEO and a professional service that can help you with it. This can include content that is in another language and optimize content for each region separately. Global SEO focuses on global strategy and how to cater to the world audience. Our best SEO services company In Birmingham has a 360-degree approach when it comes to SEO services.

Enterprise SEO
The SEO Company in Birmingham are experts in Enterprise SEO where the company will provide a solution to maximize reach and push towards broader market opportunity. With Enterprise SEO we help your company to dominate the market and organically reach the audiences. Enterprise SEO emphasizes public relations and market share as well. It protects your company from future crises on brand reputation.

E-commerce SEO
Make your online store more accessible to your audiences with more impactful search engine results and making your websites more visible to the audiences. E-commerce SEO has a larger impact on b the common public and commercial stakeholders because they simply benefit from it and get more traffic from the audiences.
Latest trends in SEO

Keyword researches are more important
Click searches will become obsolete soon and keyword searches will take over the online market. From rich SERP results to accordion answers and snippets, people will slowly adopt the ways of the keyword. As the world is getting faster, people do not want to waste their time by clicking each option or typing. Long-tailed keywords are used for the target audiences and that can be extremely beneficial for your business and will continue to do so. The right keywords are easy to follow and show faster results as well.

Voice search
Engaging the audiences with voice-enabled searches and recognition can deliver the best results. The SEO agency in Birmingham integrates voice through their expertise into SEO through their mobile interfaces where people can have access more easily. Surveys show that users find a faster answer and prefer using voice searches when they are looking for answers for their queries. Voice recognition gives you direct and filtered answers and helps you when you have specific answers. Also, voice searches are growing among the users because it seems to help pass time as well.

Artificial Intelligence
SEO services agency in Birmingham uses the latest tools to support its' AI use. While Artificial intelligence has become a game-changer for digital marketing, more people understand the use of machine learning. With AI's help, we are able to decode algorithms easily saving lots of time and also creating favorable strategies. Many companies such as – Frase, Market Muse, and HubSpot are providers of solutions based on AI and that can contribute to all businesses. This is a major trend in the industry that will contribute to a whole new level of problem solving and time-saving.

Video marketing
Visual imaging is an important way to get your message around in the online market these days. People look at images and decide by the look whether to select or choose or not. Adding images to the site map can be a way to make the crawl easier. For SEO tactics, one can use alt tags for crawlers to classify. Image SEO is the business booming trick that is yet to take over completely. Our best SEO services Birmingham recommends and invests into image optimization wholesomely.

Influencer SEO
Influencers play a huge role for businesses and on social media these days. They have many followers from all niches and you can get these followers to be interested in your business. Your brand/company can become known when they support your products and services on social media and the ROI can go up. This is a common move these days while you have to choose a specific influencer and strategy to help your brand. Automatically your brand would b much more exposed and the audiences will be engaged too.
FAQ's
Ranking can fluctuate because of several reasons and from time to time because of lack of optimization and ineffective SEO. The SEO services firm in Birmingham can contribute to your website with SEE strategies that will keep your company afloat and help expand your business, gaining the confidence of your online audiences.
Yes. You need to find and use the right keywords, learn from your competitor's strategies, long-tail keywords must be used and basically make your website more responsive. It takes time without professional help but with our organic SEO services in Birmingham you can get it done in no time.
It depends on how much and what the work is. We have specific deadlines for every job we undertake and we deliver within the promised time. You have our word!
Both user interface and user experience are responsible factors for Google ranking because it will depend on how many times a user is clicking and visiting the website and how long he/she is spending on the website. This determines their satisfaction level which contributes much to the rankings.
The benefits of SEO are:
Helps to promote products and services 24/7
Offers ROI
Optimizes the experience of the user
Improves and established trust
Reaches the audiences and exposes the brands and businesses more